Product Design and Development is a journey, we'd like to invite you to walk with us, keeping you updated on everything we are going through.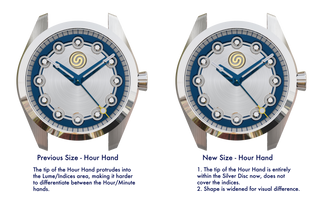 april 19 2023
Hour Hand Revision
Your voices are heard!
Some feedback we received is, that the hour hand is too long compare to the minute hand. Making it not as easy to differentiate between the hour and minute hand.
New hour hand is in the work, and will be included in the final production run.
Pre-order opening very soon! Stay tuned.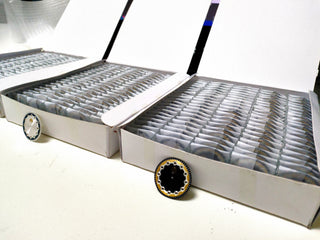 April 17 2023
Dial Production Complete!
300 Dials have been finished! As promised. 100 dials/tray. We will be preparing for full production soon.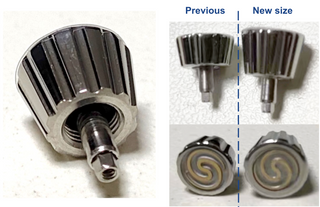 April 04 2023
Crown Size Update
On the first batch prototypes, we noticed that the crown is too small to screw comfortably. We revised the shape and size, however, it was delayed for a bit during the Chinese New Year holiday and didn't come together as part of V2 Prototypes. We will update some proper photos of the new crown on V2 Prototypes as soon as they arrive to us.
12 flutings instead of 8
40% longer
10% larger in diameter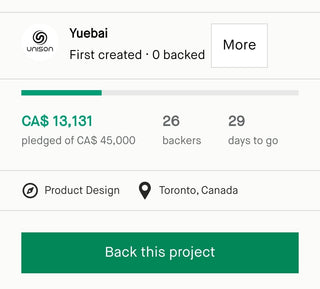 March 20 2023
30% Funded in 12 Hours!
Thanks for all your support! Let's spread the words and together we can bring it to life!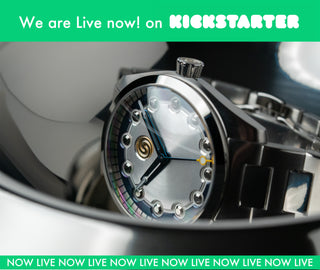 March 20 2023
We Are Live On Kickstarter Now!
The big day is here! The campaign is live on Kickstarter.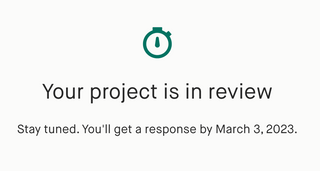 Feb 28 2023
Kickstarter Campaign coming soon...
Pre-Launch Page will be live after the review.
Jan 22 2023
Dial Production Order Placed & Paid.
300 pcs of watch dials is being made as of now (150 pcs of each color. Photo proof will follow once they start taking shape.
jan 03 2023
V2 Prototypes
Issues from the V1 Prototypes have been resolved.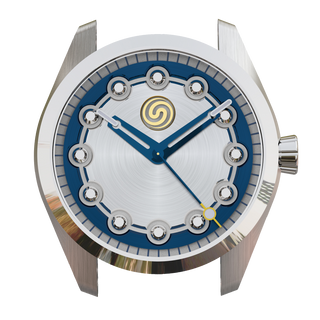 Oct 15 2022
Revisions on the upcoming V2 Proto
Improvements on the way...
Case:
1. Case die adjustment to fix low points on lugs.
2. Increase crown size for easier grip.
Ion Blue: Change Second Hand print to Solid Yellow color
Neutron Gold: Add silver print around the lume area on the Hour/Minute hands.
oct 10 2022
Issues with the V1 prototypes
Leave no issues unresolved!
1. Center disc and outer ring alignment issue.
2. Tip of the second hand disappear due to the color similarity on the Blue/Silver dial.
3. low spots on the lugs.